We believe an individualized treatment plan and specialized care is imperative to helping you achieve your ultimate goal of bringing home a baby. The expertise and experience of our dedicated medical team, including highly experienced embryologists, laboratory support staff and specially trained nurses contribute greatly to our success rates.
A frozen embryo transfer cycle is less complicated than a fresh IVF cycle because all of the work involved in ovarian stimulation, egg retrieval, fertilization, and embryo culture is already done. The uterus is prepared to receive frozen embryos by treatment with estrogen for approximately two weeks, to stimulate growth of the uterine lining, then adding treatment with progesterone, to mature and synchronize the development of the uterine lining with the developmental stage of the embryo(s). The embryo transfer procedure for frozen-thawed embryos is identical to that used for transfer of fresh embryos. Success rates after frozen embryo transfers generally average about two-thirds of those expected for fresh transfer cycles.
Understanding IVF Success Rates
At UNC Fertility, success means patient satisfaction achieved through providing the utmost level of patient care. We report our in vitro fertilization (IVF) and other fertility success rates to the Society for Assisted Reproductive Technology (SART) and to the CDC (Centers for Disease Control and Prevention) reporting system. This not only provides accountability, it also challenges us to develop the safest procedures with the best results.
We hold ourselves to the highest ethical standards and it is demonstrated by having some of the best success rates in the country. Our success rates are submitted to a nationwide organization called SART, the Society for Assisted Reproductive Technology. SART is an organization dedicated to IVF and assisted reproductive technologies (ARTs). Their mission is to establish and maintain the standards for IVF and ARTs so that patients can receive the highest level of care possible. It is important to mention that not all clinics report their data to SART for numerous reasons. At UNC Fertility, we are proud to submit our success rates and to be nationally recognized by SART.
SART charts are very useful in understanding an infertility treatment center's success rates. Your focus, when looking at the charts, should be on the percentage of embryo transfers that result in live births. This number communicates how many babies were born for each IVF cycle, as opposed to the number of babies conceived, and is one of the most important indicators of success for a practice. Also, it is important to note that each cycle represents one round of treatment, not an individual patient.
Our Success Rate Criteria
We consider success to be a healthy mother and baby. Given the nature of IVF and the desire to achieve a pregnancy, your physician will counsel and advise you on the number of embryos to transfer based on your individual medical situation. We follow national guidelines established by The American Society for Reproductive Medicine (ASRM). Data is from the 2018 SART report.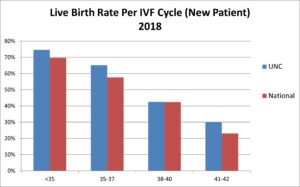 Disclaimer: Please note that patient characteristics vary among programs; therefore, success should not be used to compare treatment centers.